Breeding natives for the future
Our dedicated program uses advanced development techniques to breed native hybrids to survive and thrive in our changing climate.
Kings Park's plant development program is the only botanic garden program in the world to focus on breeding native plants for horticultural use.
A leader in Australian plant breeding research since the 1970s, Kings Park has developed more than 50 varieties of native Western Australian plants that have been sold in both national and international markets.
Plants chosen for the program require both sufficient genetic diversity within the main species or genus to deliver a whole range of different styles and colours, as well as be able to be propagated clinically.
In the nursery
The main technique used to produce hybrids is a process called recurrent selection. This breeding system selects the top two to four progeny of each cross rated by the particular attribute. These progeny are then crossed between themselves, other promising progeny or back-crossed to their parents.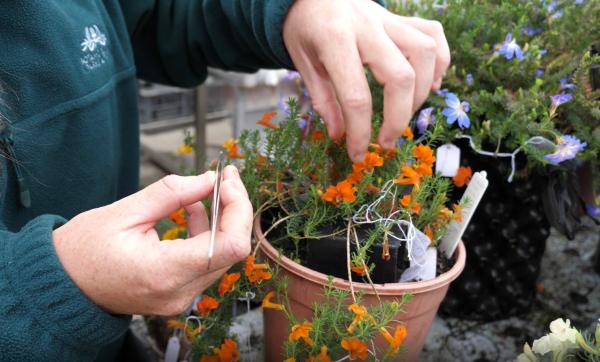 The plant breeding process typically involves the cross-pollination of desirable species and forms.
In the lab
Tissue-culture and advanced genetic testing techniques are employed to assist in the germination and propagation of hybrid material.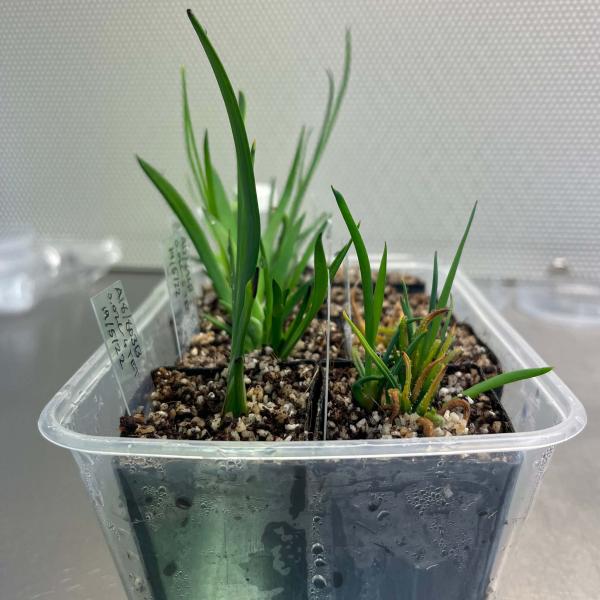 New kangaroo paw (Anigozanthos) hybrid seeds moving into in-vitro soil (IVS) to establish roots.
Kings Park cultivars provide environmental benefits including reduced water and fertiliser needs and urban habitat for birds, insects, reptiles and small mammals. There are more than 15,000 Western Australian species to choose from, so we work with commercial partners to identify a crop that will have mass appeal in horticultural markets while delivering on that important environmental benefit.
Senior Plant Breeder Digby Growns
The current focus of plant breeding activities includes the development of new hybrid forms of Anigozanthos, Boronia, Chamelaucium, Corymbia, Grevillea, Leptospermum, Scaevola, Eucalyptus, Lechenaultia, Eremophila and Xerochrysum.
What are the benefits of Kings Park varieties?
Reduced reliance on water and fertilisers
Provide habitat for birds, reptiles, insects and small mammals
Increased desirable characteristics, including compact forms, extended flowering seasons, and brighter flower colours
Adaptable to different soil and climate regions
Promote a range of native WA plants available for the home gardener and in public landscapes
As part of the commercial release of Kings Park plants, plant breeding rights are secured to protect the intellectual property of the new varieties. This means that Western Australia will get a modest royalty for each sale, which will result in a significant return for the Botanic Gardens and Parks Authority to invest in Western Australian species.