Rio Tinto Naturescape Kings Park
Rio Tinto Naturescape Kings Park is like no play space in Perth! Kids exploring this urban wilderness will discover creeks and wetlands, cubbies and climbing ropes – and most of all, reconnect with nature!
Rio Tinto Naturescape Kings Park gives city kids the opportunity to have a 'bush experience' in the heart of Perth and have fun outdoors.
Explore the treetops, climb the Bungarra and Python, wade in Paperbark Creek, get caught the Tangle, disappear down the Burrow and build your best-ever cubby.  
Getting back to nature is not only an exciting break from the routine, but bush-play builds imagination, resilience, and most of all: healthy, joyful kids.
Children must be supervised at all times.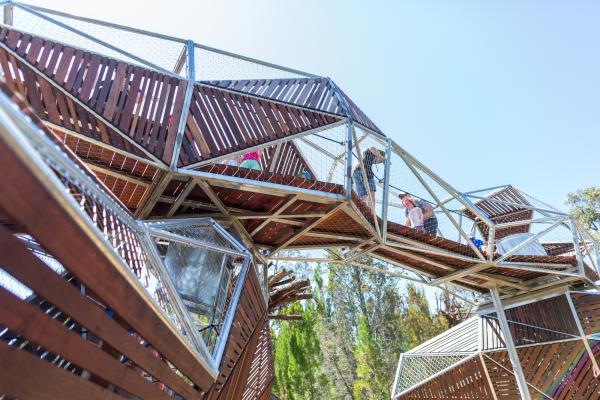 The Python is 40 metres long and reaches up to seven metres high! Explore its belly and peer out over the bushland.
Adult supervision is required. There are tall climbing structures, open water, large rocks and other features that are    intentionally designed to challenge young visitors. Make sure your child stays within their capability.
The water is not suitable for swimming or drinking. Children in nappies must not sit in the water.
Be gentle! Please don't pick flowers, damage trees or chase animals.
Take your rubbish with you.
Paths and boardwalks are generally accessible for people with disabilities or mobility issues and for parents with prams.
Please leave your pets at home. Assistance dogs are welcome.
Please don't throw rocks, or throw anything from tall structures found here. Any dangerous behaviour is not allowed.
No bikes, scooters or balls.
Shade tents, big eskies, trolleys and chairs are not permitted.
Smoking and alcohol are strictly prohibited. Penalties apply.
Phone 000 for fire and emergencies. Listen for instructions. Find a staff member if you need help or first aid.
Group bookings and vacation care
Organised groups of 10 or more including community and vacation/childcare groups must book to come to Rio Tinto Naturescape Kings Park.   Free group bookings are available during school holidays and on weekends only, subject to availability.   Unbooked groups may not be granted entry at busy times. 
Please contact the Education Bookings and Support Officer on education@bgpa.wa.gov.au 
Ratios: 
To ensure your safety, Rio Tinto Naturescape Kings Park strongly recommends the following ratios for group bookings. 
3 - 4 Year old: 1 adult to 5 children 
5 - 8 Year old: 1 adult to 6 children 
9 - 12 Year old: 1 adult to 8 children