The iconic State War Memorial, along with other memorials throughout the park, honours the fallen from all wars in which Australia has participated. The area comprises of five main elements: the Cenotaph, Court of Contemplation, Flame of Remembrance, Pool of Reflection and ANZAC Bluff Commemorative Plaque.
The Cenotaph
Unveiled in 1929 to commemorate those who died in World War I, the granite Cenotaph is a 18 metre obelisk set atop a podium over an undercroft and crypt. The internal walls of the undercroft lists the more than 7000 members of the services killed in action or who died of wounds or illness in WWI. The outer walls of the undercroft lists more than 4000 Western Australian Navy, Army, Air Force, Merchant Navy and Women's Services members killed in action or who died of war related wounds in WWII.
Also listed in the undercroft are the names of Western Australians killed in Korea (1950-1953), Malaya (1950-1960), Borneo (1962-1966) and Vietnam (1962-1972).
Court of Contemplation
The Court of Contemplation is located at the western side of the precinct and was unveiled in 1955. It commemorates the conflicts in which Western Australians have fallen, with the walls featuring the names of major battlefields.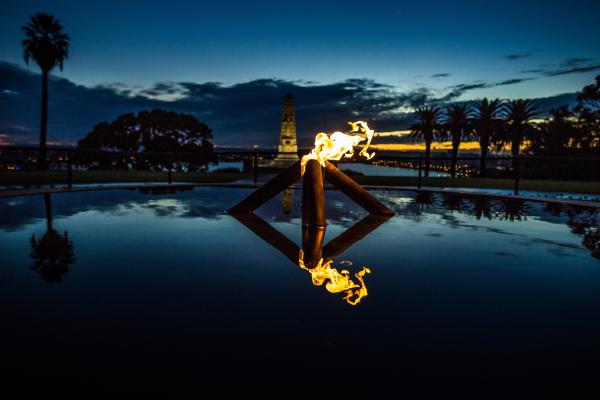 Flame of Remembrance
The Flame of Remembrance burns continuously. The four torches of the Flame represent the Navy, Army, Air Force and Women's Services. Her Majesty Queen Elizabeth II lit the Flame of Remembrance in the year 2000 from the Eternal Flame at the Australian War Memorial in Canberra.
Pool of Reflection
The granite walls of the pool are inscribed with lettering inviting visitors to the memorial to "Let Silent Contemplation Be Your Offering" while lettering inscribed on the opposite side reads "We Will Remember Them".
Plaques surrounding the pool honour the fifteen Victoria Cross and two George Cross recipients from Western Australia across the Boer War, First World War and Second World War.
ANZAC Bluff Commemorative Plaque
This plaque is dedicated to the 2500 men of the Australian and New Zealand Army Corps known as ANZACs, who lost their lives in the Gallipoli campaign of 1915.
The area below the Cenotaph was renamed ANZAC Bluff in 1974 as it resembles the site where the soldiers first landed at Gallipoli.
Bookings
Any bookings within this State War Memorial area require joint approval by the Botanic Gardens and Parks Authority and the Returned and Services League (RSLWA).