Wattles never fail to stop you in your tracks with their bright yellow, eye-catching blossoms. 
Acacia is the largest group of woody plants in Australia, with more than 1200 species. Wattles occur in habitats ranging from desert to riverine and display habits from groundcovers to trees. 
All species displayed within our ex situ collection are endemic to Western Australia. The horticulture team continue to trial new species to add to the collection.
Acacias are diverse in flower and leaf shape. Depending on the species, some acacias have a globular flower head such as Acacia glaucoptera (Flat Wattle) while others have a cylindrical flower such as Acacia denticulosa (Sandpaper Wattle). The number of flowers in each inflorescence can vary between species, with some having less than five individual flowers and others more than 100! When it comes to foliage, some acacias have 'true' leaves, while others have lost their leaves and have flattened stems known as phyllodes - a water-conserving adaptation to cope with heat and drought.
The central landscaping feature in the Acacia Garden is a dry riverbed, accommodating a broad organic staircase that doubles as a history book.
At each landing between the cascading granite steps are marble inlays depicting the leaves and flowers of different acacias (or wattles) by artist Stuart Green, who also etched seed pods into individual steps.
From the bottom you ascend through time as the evolutionary development of the acacia genus is illustrated in the mosaics, beginning with one of the most primitive species still in existence, Brown's wattle (Acacia browniana).
Walking up the stairs you will see mosaic representations of sandpaper wattle (Acacia denticulosa), wirewood wattle (Acacia coriacea), Dandaragan wattle (Acacia splendens) and blunt-tipped wattle (Acacia truncata). At the top is the most highly evolved, flat wattle (Acacia glaucoptera).
Many wattles are available commercially, either by seed or plant. Take a wander through the golden surrounds in winter and spring and you're sure to be inspired for your home garden.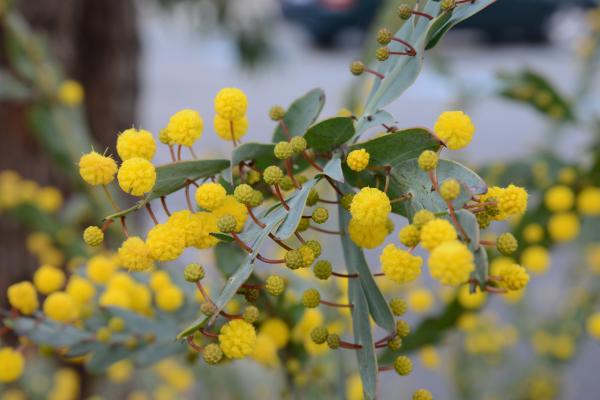 Don't forget to celebrate acacias on 1 September for Wattle Day!